If you're considering adding a four-legged friend to the family, it's important to ask the breeder for back scores. A good breeder should be able to provide documentation of the back score or Grade of the parents of a litter, as a minimum requirement. (In addition, of course, there are all the other health tests required by the Kennel Club).   
All dachshunds between 2–4 years old, should be screened for IVDD, especially before breeding, but preferably also those not being bred from. This will make the safety number of those being bred from more exact. The more hounds that are screened, the more knowledge we'll have of the inherited characteristics.  
UK Breeders in the Kennel Club IVDD Screening Scheme
Dayjaris Miniature Smooth Haired Dachshunds
Jacqui Slater
I have been involved in the world of pedigree dogs for well over forty years. Although I no longer show, health -type and temperament are paramount in our breeding programme. We aim to ensure at least one parent is ivdd screened and moving forward all our dogs will be screened as and when they come of age. I would urge more breeders to take up this very worth while screening programme.

Dajean Dachshunds
Miniature Wire Dachshunds
45 years breeding health-tested show-dogs. All parents Pra and Lafora's tested and all litters bred with at least one IVDD scored parent. Now on 3rd generation scored we have 4 IVDD scored dogs at stud some with IDC-0 scores.
Lodargeo Miniature Dachshunds
Phone: +44 (0)7828052688
Sleaford, Lincolnshire.
Gordax Miniature Smooth Dachshunds
Phone: +44 7790 304610
Paradigm Dachshunds
Emma and Alec
Hertfordshire.
Paradigm means the typical or ideal example of something, we as breeders are striving for the Paradigm of a Dachshund! So we focus on construction, health and temperament. This to us is the most important aspect to protect the future of the breed that we love.

IVDD screening is new science, so will always raise eyebrows to some. However as responsible breeders it is vital to contribute to the only line of defence we may have effecting our breed!

Hayvendhund Dachshunds

Phone: +44 7732 752620
Allerbach Dachshunds
Angela Gordon
Norwegian Breeders Using IVDD Screening  
Kennel Potefaret
Signe Aarskog
Phone: +47 32 70 05 72
potefaret@yahoo.no
I run a small kennel with long-haired miniature and kaninchen dachshunds, where my main focus is on health and disposition. My breeding dachshunds are, amongst other things IVDD screened and, PRA and luxating patella tested, before they are evaluated for breeding. In addition to health testing, I spend a lot of time making sure that the conditions are right for the puppies to get a good start in life.      
Dachshunds are healthier than the average breed of dog in terms of standard health. Their weak point is the back. Because of the risk of herniation, dachshunds are listed as average in terms of health (according to the insurance company Agria). But ruptured discs in the back is such a serious disease that it's crucial that we breeders take the necessary action to reduce the number of dogs that suffer from IVDD. The only tool we currently have, is x-ray screening. X-raying helps us to evaluate the number of calcifications in a dog's spine. The heritability of calcifications is around 0.6. In other words, if all breeders screened for IVDD we could reduce the number of herniations to below half that. 
Even though back screening can sometimes mean extra costs for breeders, it's important that we do it! Dogs are living, feeling creatures, who deserve our best efforts in doing everything we can to give them the best possible and pain free life.
You can find more information on our home page: www.potefaret.com      
Kennel Fancy Carolica 
Carola M.P. Brusevold
Slangsvoldveien 52, 1640 Råde
Tlf: +47 971 66 636
carola@raadehund.no
As you can see from my website, I've had dachshunds since the 1980s. My first dog had IVDD and PRA—so, I had a difficult start as a new owner.
I started breeding dachshunds in 1991 and IVDD screened my dogs right from the start. At that time, it was as part of the research at the Norwegian School of Veterinary Science, as far as I can remember. When I "went back to dachshunds" after a break for a few years, I thought it was a given that everyone IVDD screened their dogs today.
I was shocked to find that we hadn't progressed since the 90s! Extremely depressing and not at all focused on the future, from my point of view.
So, to sum up, based on my own experiences with illness in many different dog breeds (dogs are my profession)—health testing is vital where there is a possibility og preventing or reducing something.
I realise that x-rays are not a 100% solution to the IVDD problem for dachshunds, but it's the best method of reduction we have today. That's why I chose to IVDD Screen all my dogs.       
Kennel Søril
Eva A-W Ellingsen
Mob: +47 41321673
The main aim of Kennel Søril is to breed beautiful, functional and healthy dogs with good working characteristics. We have experience with dachshunds since 1978 as family pets, working dogs, hiking companions, and exhibition dogs. We started out with smooth-haired dachshunds that were mainly used as earthdogs  and family pets. In 1990, we got our first long-haired dachshund and in 2007 we got our first wire-haired standard dachshund.
Despite a modest number of litters per year, we've had a lot of success as breeders. All the champions, winning titles, best in test, best in show, and prizes we've achieved show that we have succeeded in our work. Kennel Sørli has amongst other things, been awarded the Norwegian Dachshund Club's breeder's recognition, as well as scent dog bronze, silver and gold medals, and scent dog breeder's prizes for several of our dachshunds with bronze, silver and gold medals. The Søril dogs have received prizes for tracking and flushing. However, the most important thing is to breed healthy, fit dogs that can bring joy to their owners for many years. It is therefore a given that we should breed from healthy individuals, and as good as all the dogs in our kennel are now PRA tested and screened for IVDD.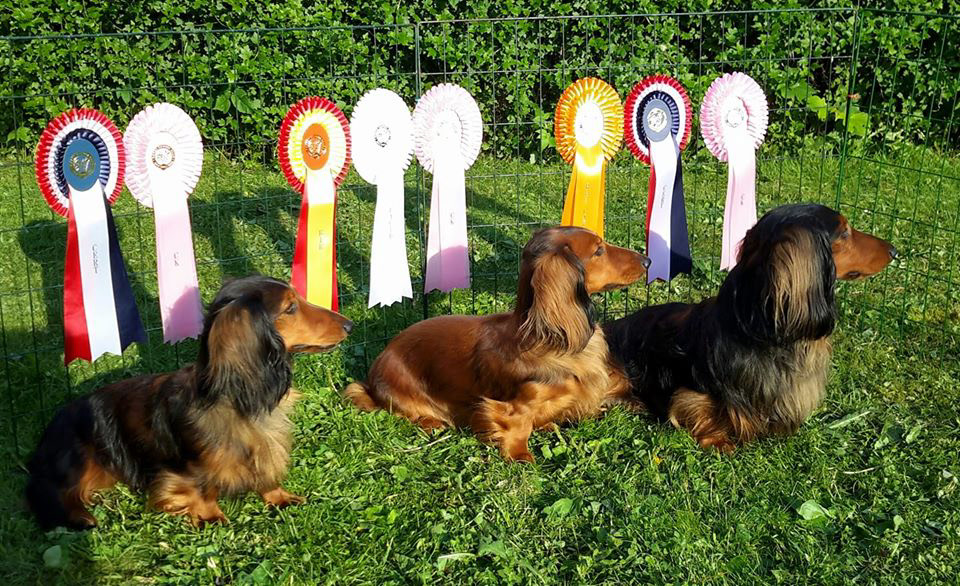 Frøydis Hardeng
Email: post@conifera.no
Back x-rays are an absolute requirement in my breeding programme. This way, I can look my puppy buyers in the eye and say that I've done everything in my power. I've had two dachshunds with IVDD myself. I managed to avoid breeding from Coda, exactly because I screened her for IVDD.   
Puppies from Denmark, Sweden and Finland
Sweden
There is a Facebook group for breeders that use IVDD Screening: 
Ryggröntgade taxar - valpkullar och avelshanar
.
Kennel Sweetax
Lotta Söderberg
Kennel Bonsoir Paris
Lina Appelgren 
Stockholm
lina@cestlavie.se
FB: @bonsoirparischihuahuas (Kennel Bonsoir Paris)

I breed kaninchen and miniature dachshunds on a small scale and for me good temperaments and healthy dogs are important.

Stella, Novastar's Puppis, is my first dachshund and she is a kaninchen dachshund. I've always loved dachshunds, but started my first kennel almost 8 years ago breeding chihuahuas. Fortunately, after waiting a long time I finally found the right dachshund for me. 

As a new breeder of this breed, I felt that back screening was important and I thought it was something everyone did. I've come to understand that this isn't the case. I also PRA test, because I prefer to know rather than not. I'm looking forward to 2022 when my first litter of dachshunds will be born. Here at my kennel the dogs (4 chihuahuas and Stella) live with us as members of the family, are part of our home and go almost everywhere with us. I also do game tracking when time allows and Stella has shown herself to be a talented tracking dog. So, now we just need to find the time to complete a field trial.

Stella was shown during the pandemic at a national exterior assessment organised by the Swedish Kennel Club and received an Excellent with Certificate quality and a great review. 

Finland - IVDD Screening Breeders
Kennel Noux Prestige
Tiina Prest
Kennel Noux Prestige is located in Espoo, Finland. We breed miniature smooth dachshunds. Our aim is to breed nice companion dogs with good temper, correct type and we also IDD-screen our breeding dogs and offspring. And in Finland we also check the eyes and knees of every breeding dog.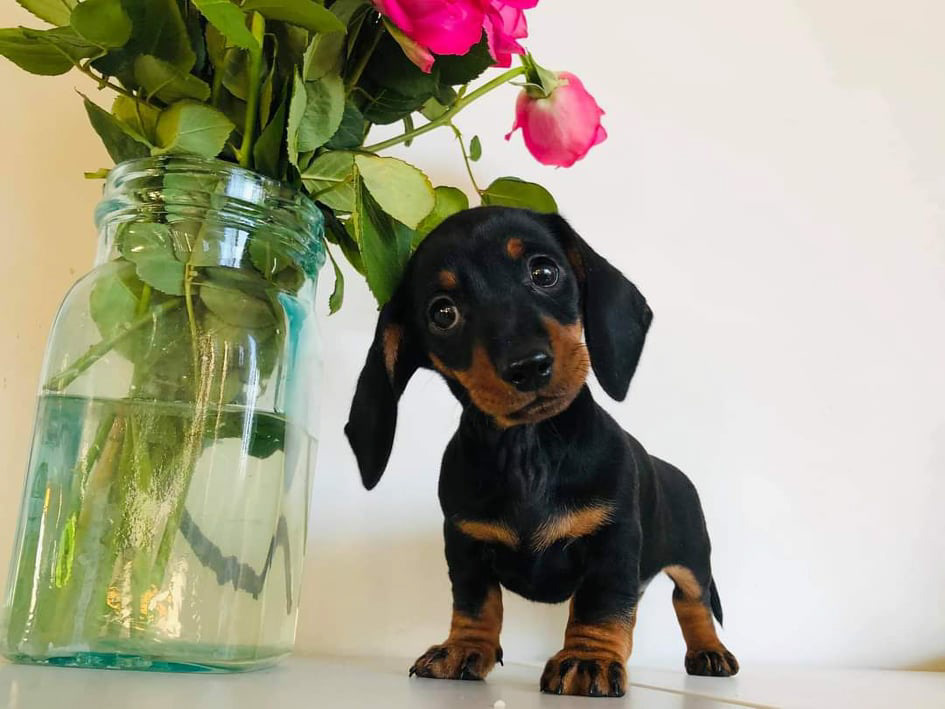 German Breeders Using IVDD Screening
Wire-haired Miniature Dachshunds «vom Gesselner Feld»

If you want to know more about our hounds, please contact us:
Dieter Honsálek 
WhatsApp: +49 172 2375416
More than 40 years of breeding these fantastic little hounds with the most important aims: 
--health 
--character 
--hunting abilities 
--FCI standard 148
was, is and will be a great challenge for us.
Following these aims strictly we managed to breed a lot of really good hounds and some very special ones, which influenced the breeding of wire-haired miniature dachshunds, especially for hunting, here in Germany but also in several countries around the world.

At the moment we have 5 old hounds and another 2 for breeding, a stud dog and a bitch.
In the future we will breed one litter a year until our bitch is 7 years old and then we will be too old to go on.

And here we proudly present our 4 years old stud dog: «Arco vom Gesselner Feld»: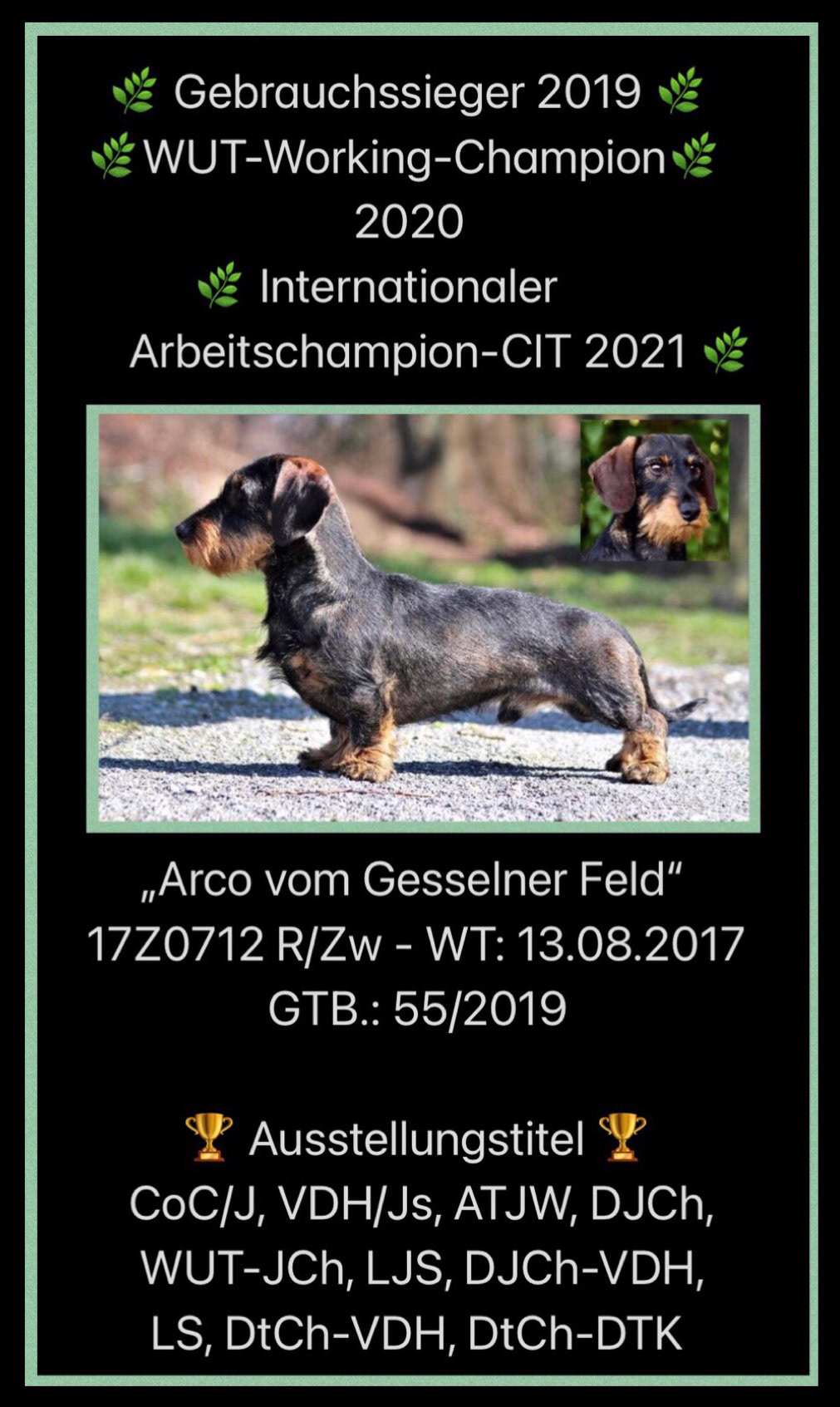 and our 2 years old breeding bitch: «Ilse vom Gesselner Feld»: